We aim to make Status List as easy to use as possible. But, I'm sure you still have questions. This is a manual of common questions and step by step solutions. If you aren't able to find what you're looking for, feel free to send us an email at hello@statuslist.app.
How to Adjust Response Time Threshold
Response time threshold tells StatusList how long an endpoint can take. If the service doesn't respond within the time frame, we let you know. You might find you're getting too many alerts, especially when you have an inconsistent service. In that case, you may want to increase the Response Time Threshold to something more reasonable for your service. (or maybe fix some performance issues)
You can customize this in the edit monitor screen. Head over to your Dashboard, click the pencil beside the monitor and adjust the Response Time Threshold.
Working with Notifications
Receiving Too Many Notifications
No one wants to get an inbox full of alerts for incidents that aren't actually incidents. You might find you're getting more notifications than you expected. In this case, usually your Response Time Threshold is too aggressive. You'll want to adjust that in the dashboard under monitor settings (how to)
If you're still having trouble, please reach out to support@statuslist.app.
You're receiving downtime notifications because you or your team lead has added you as an notification recipient. These can be a nuisance, but they do reflect reality. Turning them off will not make the problem go away. If you would still like to remove or reduce the number of notifications, here's what we can do:
Customizing Alert Behaviour
Status List has two alert behaviours: Immediate and After 2 consecutive failures. Immediate notifications will send your alerts as soon as a failure is detected. This means that any little blip in service we notice will trigger a notification. If you have a very reliable service, this is probably your best bet. After 2 consecutive failures will send you alerts only after 2 failures have been detected in a row. This is helpful for services that periodically dip, and you only want to know about the hard failures.
If you're receiving too many notifications on immediate behaviour, you may want to switch to after 2 consecutive. You can customize the alert behaviour on your Dashboard under the Notifications tab.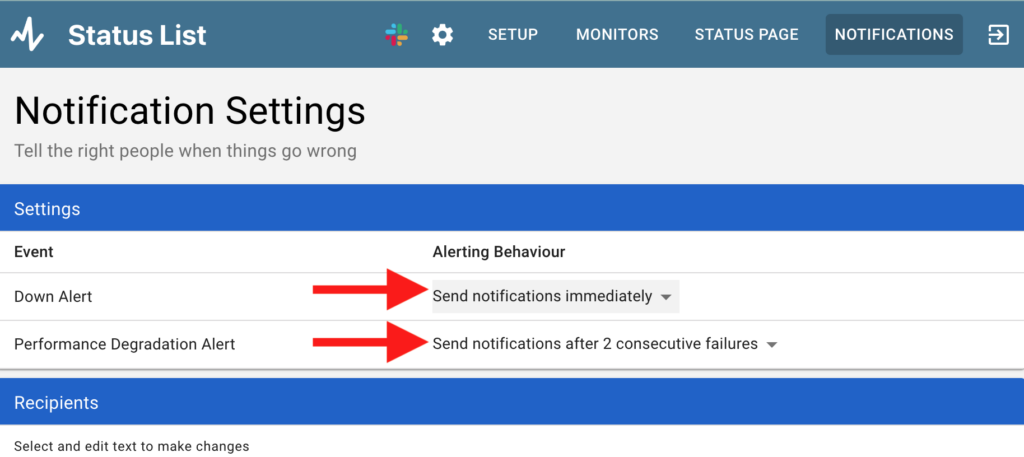 Removing a Notification Recipient
You can remove a notification recipient in the Dashboard under the Notifications tab. If you don't have access to the Status List dashboard, please contact the administrator of your account.